EXCELLENT & LOUD PRE SUMMERTIME BRUTAL/WILD WITCH DIY NORWAY NOISE RAW/PUNK AVANT ROCK TRIO & WILD_CHAOTIX_PRE_SUMMERTIME SPECIAL DJ SET_OH/YEAH!!!
MOE (Norvège)
Guro Skumsnes Moe : Voix, basse électrique
Håvard Skaset : guitare électrique
Joakim Heibø Johansen : batterie
+
PASSAGE DE DISQUES
FUXY LADY: set spécialement pensé pour l'occasion
Retour de MOE ici, ce franchement sur_démoniaque et terrassant trio norvégien, auteurs de concerts magistralement sur_puissants et débarquant avec de nouveaux enregistrements et nouveaux morceaux_yes!
Une présence scénique sur_intense et explosive, laissant le public totalement subjugué tout autour du globe (ils sortent tout juste d'une tournée fleuve au Japon, Indonésie, Chine etc…), MOE est connu pour déverser un mélange de noise et rock absolument dévastateurs en live, juxtaposé à des improvisations flirtant avec de la performance à l'état brut.
Toujours curieuse et engageante, la musique de MOE reste imprévisible, bruitiste/brutale à souhait, sombre et emplie d'un appétit ô combien féroce. Mené d'une main de fer par l'ahurissante bassiste-chanteuse-screameuse Guro Skumsnes Moe, le trio peut s'apparenter à un hybride sauvage entre Black Flag et Sonic Youth à leur plus féroce et délivre une musique sans fioritures, allant droit au but, puissant mélange d'esthétique/son DIY et de violente approche punk-rock, le tout avec une discipline exploratrice volontairement expérimentale.
Collaborateurs réguliers des papes du NOISE norvégiens que sont John Hegre et Lasse Marhaug, MOE s'inscrit parfaitement dans la lignée des combos de sauvagerie noise-rock-punk-spirit expérimentale surgissant sans discontinuer de la décidément inarrêtable scène norvégienne actuelle. Et de quelle manière!!!
Dernier concert_cave12 avant la pause estivale ici, et quel concert, le tout enrubanné comme il de soit par notre passeusse de disques du soir, la sauvagement & parfaitement_magnétiquement chaotix_summer_time Fuxy Lady_YEAH!
Un déjà bon début d'été à vous & on se pointe_yes!
Plus d'infos:
http://www.conradsound.com/
MoE
Oslo Janus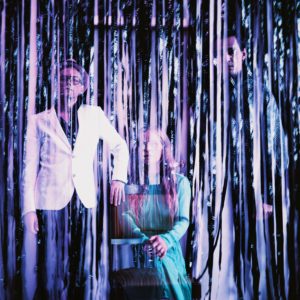 The Norwegian band MoE is known for mixing their minimalistic compositions with alternative and experimental approaches that fails to fit in the rock genre. With countless collaborations exceeding the borders of rock and noise, MoE seeks the absolute presence in the execution of the music. Loud and violently, they molest their instruments and brings the listener closer to a healthy insanity.
Their recent activity includes touring in Mexico, Australia, Japan, Europe and South East Asia, seeking new collaborations with experimental scenes all over the planet to expand the music. MoE continues working in an unpredictable, noisy and dark landscape, with a broad musical hunger. Countless artist's and bands  have made a big impact on their musical lives. But first and foremost it's the life of alternative music that provides the passion of MoE. Over the years MoE has collaborated with numerous musicians with a wide musical background.
Existing since 2008, MoE has released "Lies" (7″, 2009), "It Pictures"(LP, 2011), and "Left to swallow" (12″ one sided LP single, 2012). MoE/The Observatory split single,  "David Yow" seven inch and three albums in the series "Oslo Janus", in addition to 2014's "MoE 3" (released on Fysisk Format.) October 2016 MoE will release their new album co-produced by Jørgen Træen, and with some exiting guest.
MoE's palette is still composed of a multitude of expressions which catalyses into a highly charged and viscid sound. Executed with a profound presence, spontaneous energy and dedication. Many influences have been pointed out, and descriptions are sometimes close to contradictory; "MoE is like Jesus Lizard/Scratch Acid meets Napalm Death dressed up like very early Swans."
Meaning MoE don't care about genres.
Due to their rather clean academic middle class look, MoE has mistakenly been taken to be actors from "Little House on the Prairie", but when amps are lit, you'll soon see more similarities with the "Exorcist's" Regan MacNeil than the Ingalls. This shows some of MoEs duality and why many listeners get caught in a brutal ambush from this hard hitting non posing band.